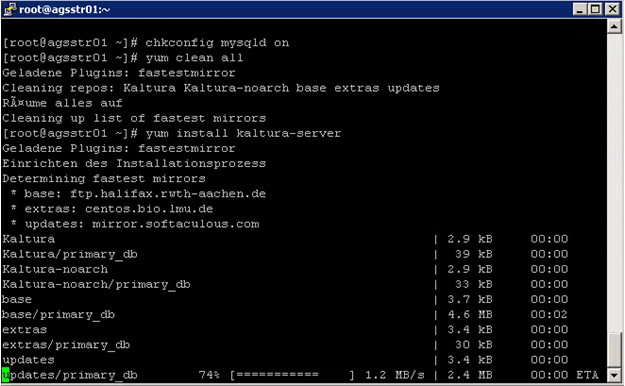 Let us continue with part 2 of this tutorial. I'll use the steps that are described in the official kaltura installation guide. I use agsstr01 as hostname. Feel free to choose your own.
Part 2 – Installing Kaltura on CENTOS
Check IP config:
vi /etc/sysconfig/network-scripts/ifcfg-eth0

Add hostname (FQDN) to linux hostfile:
vi /etc/hosts

Add Kaltura repository and Update CENTOS:
rpm -ihv http://installrepo.kaltura.org/releases/kaltura-release.noarch.rpm

yum update
shutdown – r now
Install MySQL:
yum install mysql mysql-server
service mysqld start
mysql_secure_installation
chkconfig mysqld on
Disable SELINUX:
setenforce permissive
vi /opt/bin/kaltura
SELINUX=disabled

Install Kaltura Server:
yum install kaltura-server


Start MySQL config-script:
/opt/kaltura/bin/kaltura-mysql-settings.sh

Config ntpd and memchached for autostart:
Service memcached restart
Service ntpd restart
chkconfig memcached on
chkconfig ntpd on

Start Kaltura Config script:
/opt/bin/kaltura-config-all-sh
CDN Hostname: agsstr01.gib.bs
Apache virtual hostname: agsstr01.gib.bs
Vhost port to listen on: 80
DB Hostname: 127.0.0.1
DB Port: 3306
MySQL Super User: root
Passwd: *******
Analytics Hostname: 127.0.0.1
DB Port: 3306
Sphinx Hostname: 127.0.01
Media Streaming Server host: agsstr01.gib.bs
Secondary Sphinx: none
Kaltura Service URL: http://agsstr01.gib.bs:80
VOD packager hostname: agsstr01.gib.bs
VOD packager port to listen: 88
Kaltura Admin User: ********@edubs.ch
Passwort: ******
Timezone: Europe/Berlin
Kaltura Install name (used for e-mails):
Kaltrua Videop Platform
Website Contact URL: http://agsbs.ch
Contact US: +41 **********
Is your Apache working with SSL? N
Would you like to continue anyway: yes
Port: 80
Install all Webinterfaces: 0


Wait until setup is done. It took some time until all the configuration steps are done.

Install Red5-Server:
yum install kaltura-red5

Deactivate IP tables:
Iptables –F
Service iptables stop
Chkconfig iptables off

Access red5 Webinterface:
http://agsstr01.gib.bs:5080

Install a ready-made application
Choose OFLA DEMO
Install

edit:
/usr/lib/red5/webaps/olfademo/index.html

Access Streaming Demo Page:
http://agsstr01.gib.bs:5080/oflaDemo
Play sample video Files



Access Kaltura Admin Console with the user that you did setup in the installer script.
http://agsstr01/admin_console
Add a publisher User

Acces Publisher User Webinterface:
http://agsstr01/kmc
Basic setup is done. Let's continue with part 3 of this tutorial.