Microsoft Visual Studio 2015 CE is also on my to-do list for automated/silent software installations. I've tried to create an unattended setup as it is described in this article.
Sounds great, but everytime when I did start the setup I got a XML validation error! 👿
Setup is blocked!
First I've tried to analyze the logfile, but it cost me too much time and nerves to find the cause! In over 2900 lines there's simply too much rubbish instead of useful informations! 🙁

Then a idea pops out why do I don't solve this with AutoIT, that I've used in my last challenge?
I gave it a try, but I had no success. The window info tool wasn't able to read out any informations of the setup window. I only get the title and a class called HwndWrapper! It seems that AutoIT is useless in this case when we get a HwndWrapper class.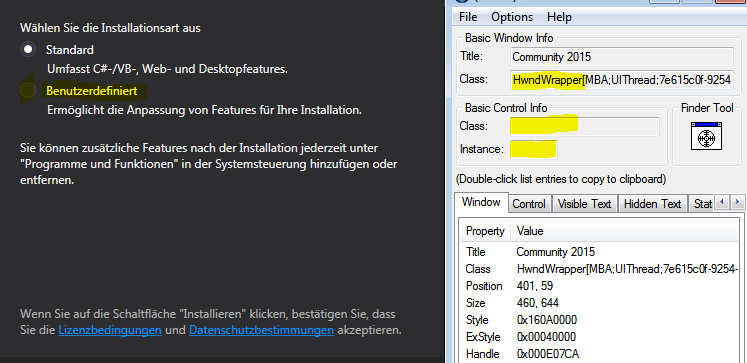 Then I've discovered an other article that handle an automated installation of Visual Studio 2015.
For unattended, use /quiet (or /passive if you want to show the UI but not prompt)
To install optional components, use /InstallSelectableItems [item1; item2; ...]
To prevent reboot at the end, use /norestart (or use /forcerestart to require reboot)
The switch /InstallSelectableItems sounds interessting for me! But where do I get the names for the items? My goal is to install only the C++ environment without any C#,VB,Java and Web Development tools. I had again to do a look to my admin.xml file that I've created first.

I had no idea if this works, but I used the specific Id names that I've discovered in the XML file for the item names!
setup.exe /quiet /norestart /InstallSelectableItems NativeLanguageSupport_VCV1;NativeLanguageSupport_MFCV1;NativeLanguageSupport_XPV1
 If I check the running porcesses it seems that the silent installation of VS2015 is running now 🙂