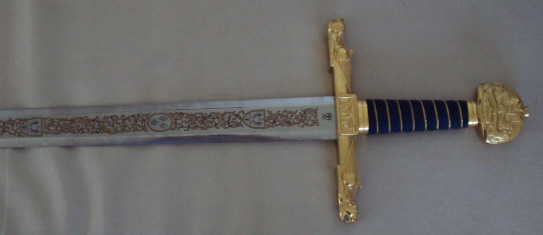 Faszinated by swords I did buy one from a sword Collector. I discovered this nice sword on a well known auction platform like Ebay. It's a copy from the sword of Charlemange. Maybe it's a Childs dream to have such a sword, but for me it's also a characteristic symbol of righteousness, fight and strenght of a warrior who never ever give up when problems and sorrows arrive in life. The Sword is also a symbol for the word of God as we can read in the Bible in the book of Ephesians Chapter 6:
11 Put on the whole armour of God, that ye may be able to stand against the wiles of the devil.
12 For we wrestle not against flesh and blood, but against principalities, against powers, against the rulers of the darkness of this world, against spiritual wickedness in high places.
13 Wherefore take unto you the whole armour of God, that ye may be able to withstand in the evil day, and having done all, to stand.
14 Stand therefore, having your loins girt about with truth, and having on the breastplate of righteousness;
15 And your feet shod with the preparation of the gospel of peace;
16 Above all, taking the shield of faith, wherewith ye shall be able to quench all the fiery darts of the wicked.
17 And take the helmet of salvation, and the sword of the Spirit, which is the word of God:
18 Praying always with all prayer and supplication in the Spirit, and watching thereunto with all perseverance and supplication for all saints;
Otherwise a spiritual war exists. We all know problems, but as Christians we have the reliance that we're never alone when circumstances attack us. Personally I like to pray and I believe that I can share everything from my heart with god. There is so much power in prayer. I can't be without prayer and I also like the pray with others. And yes spiritual bondages exists, but the good news are that Jesus did came to set the captives free. It's an important thing that we've friends where we can connect us in prayer because every warrior knows times of vulnerablity and debility. This is the time where intercession takes place and why it's important that we're here for each other. I plan to write more about prayer in another post and I want to show you two other pictures of my sword.