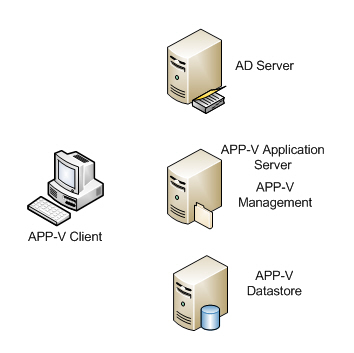 One part in my Job as Systemadministrator is to deploy Software to the users. The area of the Applications is great because we're a vocational school and we've to provide nearly 150 different Applications. For the deployment of the Software we use Citrix XEN APP and MS APP-V. Only a small piece of Software is directly installed in the Operating System Image. MS APP-V is a great technology that we no longer have to do local installations. MS APP-V allows the deployment of applications in realtime to any client from a virtual application Server. Only the APP-V Client needs to be installed on the Client. All application data is permanently stored in APP-V Packages on the virtual application Server. APP-V is based on virtalization technology like a great part of our Client and Server Infrastructure.
APP-V based Applications are like Sandboxes. That means that the package do not changes to the client itself because they use their own virtual registry and file system. Some Applications are easy to create with MS APP-V, but others can be very difficult to create and you need to a deeper analysis how the software work and you need some creativity to find a workaround or a little hack to get the Software to work. 🙂
Based on my Experience not many middle size companys use this technology to provide applications yet, but if Microsoft plans to add the APP-V technology in their new Operation System we'll see that this technology becomes automatically more publicity.