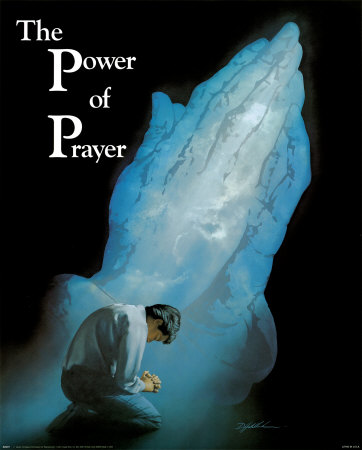 First I want to show you a video which I've discovered on youtube. It's a short and impressive story about the power of prayer. Then I want to share some thoughts about the video with you and a few personal words about prayer.
In the video we can see Alexander Ogordoknov. He was imprisoned in the Soviet Gulag by the KGB because of his faith. Alexander tells us in his story that he was thrown into a cell with a broken window one day. In Sibiria it can be very cold and the KGB tried to freeze him. He began to ask himself if god has really left him and if he had to die in this cell! In his circumstance of fear he began to pray! But god is always faithful! The story continue with a woman who had a dream. In her dream she did see Alexander without knowing who he was and after her dream she had the strong impression to pray for him. She told her church about the dream and together they start to pray. And now we can see the power of intercession, because Alexander tells us that he was suddenly surrounded by a warmness and the terrible coldness disappeared! The guards where shocked as they realized that Alexander was still allive. Probably they had no explanation, but it was god who did protect him. Later we can see that the woman who had the dream received a letter from OpenDoors with a request to pray for Alexander. She realized that the Person of this letter was the Alexander from her dream where they have prayed for! Isn't that amazing?
After we see that Alexander was unexpectedly released, the clip ends with the words Believe in the power of prayer! Maybe the story above is for you just a "nice story" and you've never made an experience in prayer, but I want to encourage you that you can always trust in the power of prayer. For me it's a great privilege to know that I can share everything from my heart with god. It's a great privilege to know that I'm never alone. But how can I be sure that I'm never alone and that there's a god who really hears me? It's a good question and everybody who knows me a little bit closer, know that I'm a thinker. We're all born into this "crazy" world and many of us ask about the meaning of life. One thing that I've realized is that this world is controlled by money and fear. The system tries everyday to suggest us that we need money. If we have money we can buy a lot of securities and the truth ist that we buy many of this securities because of the suggestion of fear that is given us by the system. If we have much money we're someone in this world and if we haven't money we're nothing. This is definitely not true and I no longer wonder myself why we can find more faith in other parts of this world where the people are poor or don't know this things we enjoy here.
If you invite Jesus into your life you'll get automatically a new security. It's something that you can't see or buy. It's a security that will still persist when all the securities of this world breake down. The only thing you have to do is a decission to invite Jesus into your life and a step in faith. It's a free gift for everyone and you'll no longer be the same person than before, because from this time you know that you can share everything with god. I write this lines because I do experience that I can bring all my sorrows, fear and burdens to Jesus. I had many situations in my life where I was going trough by prayer. I  did also experience the power of intercession when other people supports you in prayer. This is a very important part because there are times when we're weak, don't have the power to pray or have to fight with a situation which is not easy by going alone trough. Before I close this blogentry I want to give you the opportunity that you can write me if you have a prayer request and I'll pray for you. I also want to confess that there are no distances in prayer. Last year I did contact a international prayer network in a situation where I had to fight with a terrible headache. The headache was so strong that I couldn't sleep. I did send a prayer request to the network and one hour later my head was free of pain.
Be blessed!