We provide lot's of virtual machines in our Environment. In the background we have some ESXi Servers, a Citrix Provisioning Server and a Citrix Desktop Delivery Controller. The main advantages of the Provisioning technology is that we can provide one Operating System Image to hunderds of virtual machines, we need less time and effort for support and we no longer have to handle 10 or more Operating System Images for different kind of Hardware. For most of the applications we use application virtualization technology. The main Operating System is still Windows XP and Windows 7 is provided for tests. One part of my job is to check all the applications if they're running on Windows 7 that we can go productive with it next year.
What can we do in such cases? (I definitely prefere option three…)
Use a Software Emulator (If we find a good one)
Use a virtual machine
Throw this shit away 😈
There is a Emulator called DOS BOX who supports 16bit Apps. This is a very powerful DOS Emulator which runs on a 64bit Windows 7 System without any Problem. The only Problem is that you can't start a Windows Binary inside the Emulator.
Waste of time, but it can be a good alternative for you if you really plan to run a classic DOS application on a modern Operatingsystem…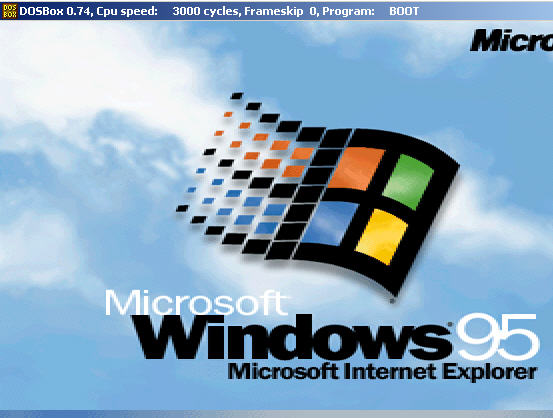 There is also a possibility to run a hidden Windows XP inside a Windows 7. This solution is called "Windows XP Mode". You can install the older applications in a virtual Windows XP and start them in Windows 7. In the background you have a virtual WindowsXP Image which is running on the Microsoft Virtual PC Software. Microsoft offers both (the Operating System Image and the Software) for free.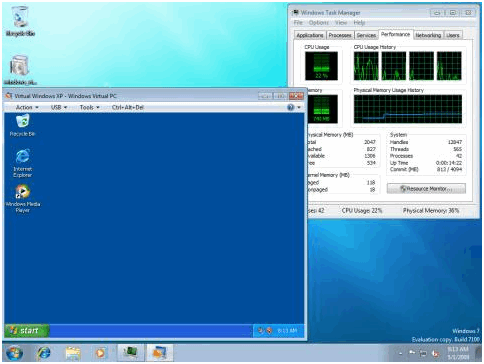 I did install the "Windows XP Mode" on a Windows 7 Test VM to check if that would be a possibility. After installing a stonage application in the Windows XP Mode I did run the application in my Windows 7 test VM. Bad surprise! The VM get slower than slow and was totally blocked. As you can see in the picture below, the CPU Usage of the virtual Windows XP was 100%!!! 😯

The evil process in this case ist the file ntvdm.exe! This file is the 16bit Dos Emulation in a Windows XP System. Now I can try to find a hack to get the CPU Usage down, but I can definitely invest my time better….

The car mechanic teachers have to check now If they can deliver me newer software and I can go further to check other applications 😉