This week I did install the new APP-V 5 management Server. I did also prepare the database setup based on Microsoft SQL Server 2012. Microsoft did a complete Redesign with the new APP-V Version. The management console is web based, the APP-V packages came in a completely new format and you have to work with the Windows power shell. I plan to write some experiences that I made with the new APP-V version in another article. I'm not really exited of Microsoft new Operating Systems like Windows8 and Server2012, but this is another topic and I think you know what I mean! 😉
The reason why I do this post is because I got a suspicious error message after my installation. There was something wrong between the communication of the APP-V management server and the database and I want to show you how I was able fix the problem…
After some researches I did find a blog with a hint to this problem.
This can be fixed by logging off the server and logging back on again. If this doesn't fix the error and you have logged on with an account with permission to access this information, then you have probably added a default AD group (such as Domain Admins) to the access permissions when you installed App-V 5. In this case, uninstall App-V Server and reinstall using a newly created Active Directory group or a single user account and add the other users / groups once App-V Server is installed
Interesting, I didn't create a separate group in the Active Directory like APP-V Administrators! I've used the default Domain Admins Group. Really strange, what a stupid bug!
There is a workaround by editing the dbo.RoleAssignment table in the AppVManagement Database and I've decided to fix it without re-installation of the Server!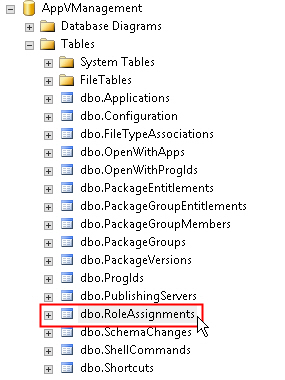 But first I need the SID of my Admin User. The fastest way to find the SID of a user account is over the registry. It's located under HKEY_LOCAL_MACHINE\SOFTWARE\Microsoft\WindowsNT\CurrentVersion\ProfileList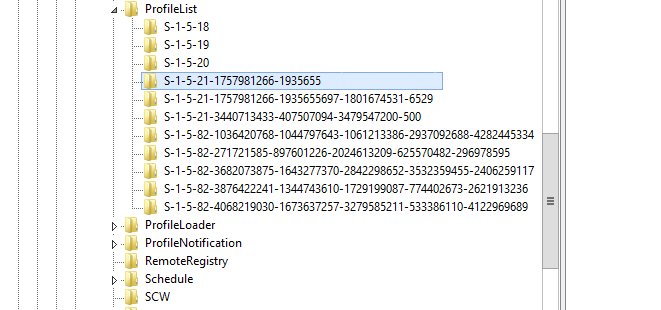 And now I've to edit the SQL table. Set the Role Name to ADMIN, put in the SID of the Domain Admin Account and a 1 in the AcoountTyp column.

A re-login to the APP-V Management Console shows me that the Error is disappeared!